Subscription Service Statistics and Costs
Subscription Service Statistics and Costs 2022
From Netflix to Stitch Fix, subscription services have changed the way consumers get their entertainment, apparel, food, etc. Convenient payment options through recurring monthly charges are one of the driving factors that attract many consumers to use subscription services.
Oftentimes the monthly payments for these services fly under the radar, especially when consumers subscribe to more than one. We wanted to take a closer look at consumers' relationships with these subscription services as well as their awareness of how much they pay for them. Our survey asked consumers across the country about their relationship with subscription services and the associated recurring monthly charges.
Subscription Service Costs: How Much are Consumers Really Spending?
In order to conduct our analysis, we first asked consumers to think generally about the number of subscription services they use and estimate how much they spend per month on them. Respondents were given 10 seconds to complete this question. Then, a while later, these same consumers were asked to individually break down their monthly payments for each subscription service across various categories such as streaming, apparel, cosmetics, food, and other categories.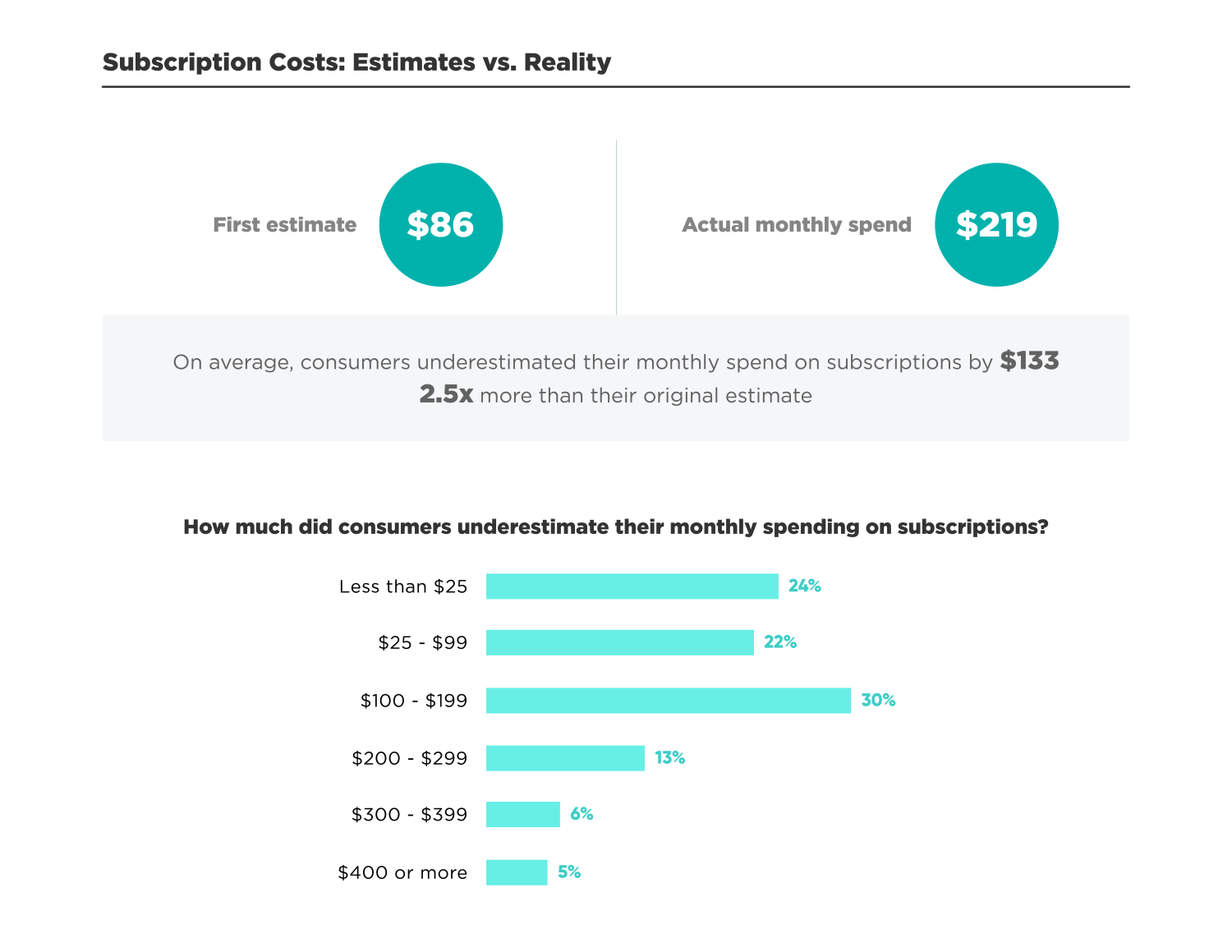 On average, $86 per month was the initial amount consumers estimated they spent on subscription services. 
But upon closer look at their itemized expenses, the average monthly spend for consumers was more than 2.5 times the amount they thought at $219 – a whopping $133 higher than their original estimate. Almost one-third (30%) of the people underestimated by $100 to $199 and nearly a quarter each underestimated by less than $25, $25-$99, and $200 or more. 
Subscription Payments
As we see, consumers not only lose track of how much they spend on monthly subscriptions, but they also lose track of how many services they subscribe to and use.
Overall, about three-quarters (74%) of consumers said it was easy to forget about their recurring monthly subscription service charges. Meanwhile, a significant minority (42%) admit that they've stopped using a subscription service(s) but forgot they were still paying for the service (with Gen Z being most likely to forget and Boomers least likely). It appears that it's pretty easy to forget about payments considering that the majority (72%) said they set all their monthly subscription payments to auto-pay.
Keeping Track of Subscription Payments
With the increase in subscription services, several companies and banks are now offering subscription tracking programs. These apps and services allow consumers to get a snapshot of how many subscriptions they pay for and how much they're being charged per month. Overall, one-in-ten consumers said they use these services, with Mint being the most popular. 
Sharing Subscription Services
Recently, streaming services such as Netflix announced a crackdown on password and account sharing across their platform. Overall, more than one-quarter (26%) said they share a streaming service account with someone without paying for it. And nearly one-in-five (18%) said they share an account and split the costs with someone else. 
When streaming services first became popular in the late 2000s, so did the concept of "cord-cutting," or dropping cable TV, primarily to save money. But with more and more of these services to choose from, nearly half (47%) of consumers feel that streaming will become more expensive than paying for cable. More than one-in-ten (12%) feel that only some streaming services will become more expensive than cable.
Despite the rise in subscription services, some consumers said they are looking to cut back on subscriptions; in fact, one-third said they'll be cutting back on subscriptions within the next six months. 
There's no doubt that subscription services offer many conveniences to consumers, but as inflation continues to take hold and prices across the board are increasing, more and more consumers will undoubtedly begin to scrutinize where their money is going – including to these services. Many will be weighing the trade-off of the service with price as well as the number of subscriptions they have. And, given that almost one-quarter (22%) feel overwhelmed with the number of subscription services they currently have, companies can expect to see their subscriber bases start to decrease. It will be more important than ever for companies to reinforce the value propositions of their subscription services to combat potential cancellations. 
Methodology 
From April 22 to May 2, 2022, we surveyed 1,000 self-reporting consumers across the country to ask about their relationship with subscription services. Respondents were split evenly among Gen Z, Millennial, Gen X and Baby Boomer age ranges. The average age of respondents was 43. Gender split: 51% female; 49% male. Income: Under $20K: 13%; $20K – Under 40K: 20%; $40K – Under $60K: 18%; $60K – Under $80K: 15%; $80-100K: 13%; Over $100K: 21%.
Relationship status: single: 36%; married: 37%; in a relationship: 17%; divorced: 7%; separated: 1%; widowed: 2%. 
Media Inquires
For media inquiries, contact media@digitalthirdcoast.net 
 
explore featured
Case studies
Hey, get our newsletter
join 5,000+ market research professionals
who "emerge smarter" with our insights