2019 Package Theft Statistics Report
Published:
November 13, 2019
2019 Package Theft Statistics Report
E-commerce companies like Amazon have revolutionized the way consumers shop. Everything from hair care products to gourmet meals for your pet can be purchased online and delivered directly to your front door within hours. However, the convenience of online shopping can also come with unexpected drawbacks such as coming home to find out that your package has been stolen.
Package theft is a growing problem across America as 36% have reported having a package stolen at least once. We asked 2,000 consumers who have shopped online at least once within the last 12 months about their experiences with package theft as well as what preventative measures they've taken to avoid getting a package stolen in the future.

Package Theft Statistics
According to respondents, nearly one-half (44%) receive some type of package on a weekly basis. On average, respondents said they get 45 packages delivered to their home per year. For Amazon Prime members that number is slightly higher at 51. Non-members said they receive about 25 packages annually. Overall, respondents said they spend an average of $222 per month on online orders.
With one single package potentially containing hundreds of dollars worth of goods, package thieves, or "porch pirates," see an Amazon box as a ripe opportunity to steal. More than one-third (36%) have been a victim of package theft. Of those, 44% have had a package stolen at least twice. Most package theft victims (83%) said they contacted the seller or Amazon immediately after finding out their package had been stolen, while only 13% called the police right away. Overall, very few (11%) said the porch pirate was caught, but thankfully, 73% of package theft victims said they eventually received a refund.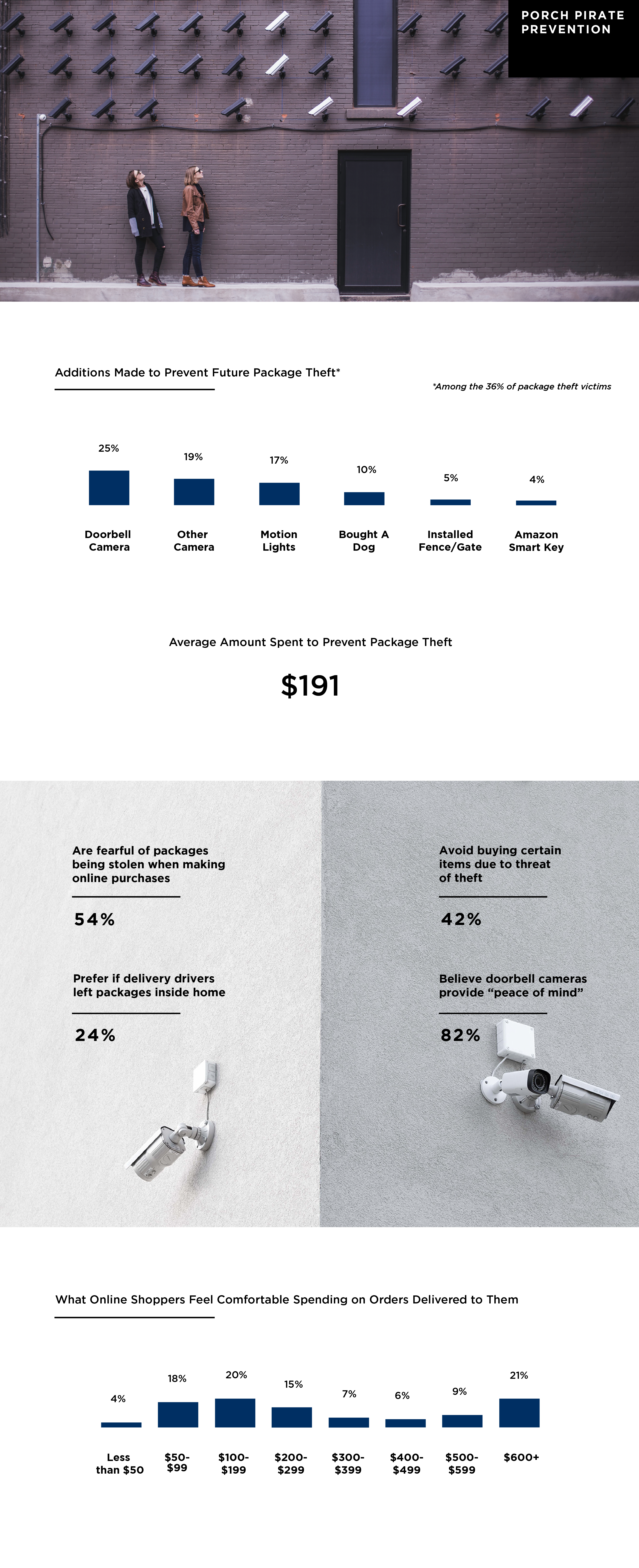 Package Theft Prevention
In order to prevent future package thefts, respondents who have had a package stolen said they took multiple measures in the form of home security. The most popular is to install a doorbell camera such as Ring, Google Nest or Vivint. These video doorbell cameras allow homeowners to monitor their entryways 24/7 and record the footage to deter would-be thieves. The price for a doorbell camera can cost up to $200 and respondents said they spent about that much ($191) on home security features. Only 4% said they utilized Amazon's Smart Lock Kit, which allows delivery personnel to leave a package inside your home after they request access from you. However, despite these types of services, 44% still said delivery services aren't doing enough to prevent package theft.
The thought of someone entering your home to deliver a package might not sit well for some, but it appears to be gaining traction as nearly a quarter of all respondents said they would prefer if delivery personnel left packages inside their home.
It's interesting to note that more than half of respondents (54%) said they have some type of worry or fear about buying a product online that will be delivered to their home due to the potential of it being stolen. Just over 40% said they avoid buying expensive items online altogether and 42% said they feel comfortable spending $200 or less on orders delivered to them.
In the minds of homeowners, doorbell cameras seem to be the most effective measure when it comes to preventing package theft. In fact, 82% of all respondents said that video doorbell cameras "provide peace of mind."
Holiday Season Package Theft
As consumers and businesses prepare for the 2019 holiday shopping season, package theft is also on the minds of Holiday shoppers. Nearly all (92%) respondents said they expect to get at least one type of online order delivered to their home this holiday season. Nearly half (47%) said they are worried about a package being stolen this holiday season and 42% said they will avoid buying expensive items online. However, respondents said they aren't going to let potential thieves ruin their holiday spirit. Shoppers will keep shopping until they drop, but they will also be taking precautions to avoid package theft such as staying home for deliveries (50%), shopping at stores (32%), opting for in-store pick-up (31%), requiring a signature for deliveries (26%) and even getting their packages delivered to their work (14%) or to a friend or relative (12%).
According to respondents, 36% have sent a package somewhere besides their home in order to avoid package theft.
No matter how you choose to shop this year, taking precautions and utilizing security features might be your best bet to avoid package theft for the holiday shopping season and beyond.
Methodology
For this report, we surveyed 2,000 self-reporting online consumers who have shopped online at least once within the last 12 months via Amazon's Mechanical Turk survey platform from September 16 to September 17, 2019. 40% were male and 60% were female with an average age of 38. 41% reported living in a suburban area, 36% in a city/urban area and 18% in a rural area. Housing: single-family detached home: 53%; single-family attached home: 15%; apartment (without doorman): 21%; Apartment with doorman: 4%; condo (without doorman): 4%; condo (with doorman): 1%; other: 2%. Note: Amazon Mechanical Turk respondents may be more likely to use Amazon services such as Amazon Prime.
Media Inquires
For media inquiries, contact media@digitalthirdcoast.net

explore featured
Case studies
Hey, get our newsletter
join 5,000+ market research professionals
who "emerge smarter" with our insights